We were officially introduced to the musician's great talent when she was signed by Swangz Avenue in 2019 and released her first track. Before that Azawi had been writing songs for other top musicians in the country including Pia Pounds, Nina Roz and
Lydia Jazmine
, just to name a few.
As a public figure, and an attractive one for that matter, it's only normal for people to want to ask about Azawi's personal life and questions like who is Azawi's husband or is Azawi married are bound to come up.
In the spirit of keeping you updated on Azawi's love life, here is a look at all the details about the Slow Motion hitmaker's personal life including who Azawi's husband is (if she is married, that is) and a quick look at her background.
Azawi's husband
As of July 2022, sources indicate that the post for Azawi's husband seems to be vacant as the My Year hitmaker has not yet walked down the aisle and exchanged vows with somebody's son.
That being said, we should also clarify that just because Azawi is not married doesn't mean that she is still in the market- the gifted musician reportedly has a boyfriend.
In a past interview, Azawi confirmed that she was in a relationship. She however revealed that she was not comfortable revealing the identity of her man and that she was not comfortable showing him off in public yet.
It appears that Azawi's boyfriend is a very private person and there is a chance that he is not a public figure.
Is Godfrey Lubega Azawi's husband?
In October 2021, popular bodybuilder Godfrey Lubega caused a stir online after a video of him vowing to marry Azawi in January 2022 went viral and shortly after, tabloids officially declared him Azawi's husband.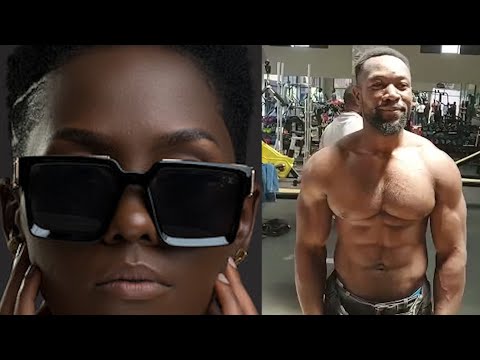 Godfrey Lubega is one of the most outspoken bodybuilders in the country known for winning the Mr. Kampala competition in 2019, coming second in the competition in 2021, and being a participant in the Mr Uganda competition.
It appears that Godfrey Lubega's video about marrying Azawi had been a joke as we didn't hear any wedding bells in January.
Azawi's background
Azawi kick started her career as a solo musician in 2019 when she released her debut song Quinamino which was a massive hit.
Before joining the music industry as a singer and songwriter, Azawi started out as a dancer when she joined the Kika dance troupe in 2005. Kika is amongst the top cultural dancing groups in the country.
After leaving the Kika dance troupe, Azawi began singing in school with support from her brother and friend.
Slowly, Azawi began nurturing her songwriting skills and after her father passed on, she started selling her songs to make ends meet at home but she didn't make much from this business.
In 2015, Azawi joined a band and she worked with the band until 2019 when she officially launched her solo career after being discovered and signed by Swangz Avenue.
With less than two years in the industry, Azawi has put a mark in the industry that is hard to miss. She is one of the fastest rising upcoming artists in Uganda and we are glad to be alive to watch her rise and rise.