Sheila Gashumba
, aka Lil Stunner, is one of Uganda's most popular socialites and television personalities who has been in the limelight since she was a little girl.
Since she became a common face on our screens, we have seen and heard so much about Gashumba's father but we have almost never heard of Sheila Gashumba's
mother
who has kept away from the limelight.
So who is Sheila Gashumba's mother and where is she? Here is everything we know about her as well as Gashumba's father who is greatly responsible for the young star's success in showbiz.
Who is Sheila Gashumba's mother?
After hiding her mother from the public for years, Sheila Gashumba finally shared with the world a short clip of her mother and we believe that the young television personality got her good looks from her mother. Just look at her facial features- we think the two would pass for sisters.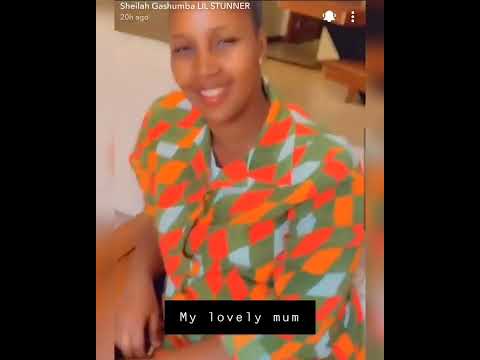 The beautiful award-winning television host was born on 7th February 1996 to a well-to-do family.
Sheila Gashumba's mother is Christine Mukuza, who is also known as Tina Mukuza and her father is Frank Gashumba. Her parents divorced when she was young and her father got custody of the young Sheila.
Not much is known about Sheila Gashumba's mother but in a past interview with
The Sqoop
dated 2014, the talented media personality revealed that her mother works at the Ministry of Internal Affairs.
Sheila, who was 18 years old at the time, also revealed that both her parents are Tutsis from Rwanda. Both her maternal and paternal grandparents emigrated to Uganda and settled in the Masaka region and that's where they first met.



While Sheila Gashumba's mother has steered away from the limelight, she has not been completely off the radar and from time to time she has been dragged to the limelight. In June 2018, The Kampala Sun published on its first page that Sheila Gashumba's mother had gotten married to former MP Mwesigwa Rukutana.
In 2019, Gashumba's father- Frank Gashumba revealed in an Uncut interview, that his daughter whom he had raised single handedly had been taken by her mother who was "influencing her negatively."
Sheila Gashumba's father
Before Sheila Gashumba became a public figure, her father Frank Gashumba was the family's public figure.
The older Gashumba is a famous motivational speaker, political commentator and businessman who has made a great fortune from his chains of businesses.
According to sources, Frank Gashumba holds a Bachelor's degree in Business Administration from Nkumba University.
He briefly worked at the Latter Day Saints Church before quitting to begin his entrepreneurial journey and his first venture was Mali Mixed Farm, Masaka.
He went on to form a myriad of other businesses across East and Central Africa including Mali Group of Companies, Bbunda Holdings, Sarafina Water Company, Sarafina Safaris, and the National Action for Awakening Uganda (Sisimuka Uganda), among others.
Frank Gashumba has been very influential in building up Sheila Gashumba's career. As her manager and mentor, Frank Gashumba ensured that his daughter got the best education and publicity she needed to make it in the entertainment industry.