Robert Kyagulanyi Ssentamu, aka
Bobi Wine
, is among the most prominent people in Uganda who gained international recognition for his work as a musician first, then a seasoned politician.
Bobi Wine's birthday falls on the 12th of February every year, just two days ahead of Valentines' day. He was born in 1982 into a polygamous family where his father had many wives.
His father was the late Jackson Willington Ssentamu who passed on in 2016, and his mother Margaret Nalunkuuma passed on much earlier on in 1997.
For his 39th birthday, Bobi Wine held a huge birthday party to celebrate with his family, friends, and supporters. Here is a look at how Bobi Wine's birthday party went down, as well as what he did for his 40th birthday.
Bobi Wine's 39th birthday party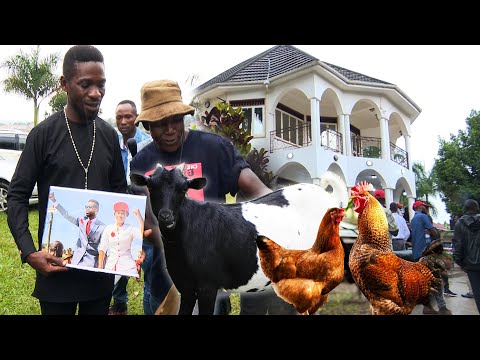 When he turned 39 years old in 2021, Bobi Wine's wife Barbie threw a huge birthday party for him at their
home in Magere
.
This particular Bobi Wine's birthday party was like no other party. His home was welcome to the public and hundreds of his supporters and fans showed up to celebrate with him and they did not show up to the party empty-handed.
Along with wishing him the very best as he turned a year older, and affirming their support for him with the chant "People power" the guests also gifted Bobi Wine with plenty of gifts ranging from chickens to goats and an assortment of other wrapped gifts.
The party was the first celebration that Bobi Wine had had since the general election where he had vied for the top seat but the incumbent was declared the winner and he was placed under house arrest.
Bobi Wine's 40th birthday celebration
On 12th February 2022, Bobi Wine crossed over to the fourth floor as he turned 40. Unlike his previous birthday where he had a huge party, his 40th was lowkey but it did not go unnoticed as thousands of his fans took to social media to wish him well.
As birthday wishes trickled in, the sweetest message he received was probably from his wife-
Barbie Kyagulanyi
.
Sharing a picture of her beloved on social media, the beautiful author posted:
"My best friend is 40 today!
If I were to write another book today 10 years after my first, I'd still say that my biggest achievement at this point in life is to be married to you Mr. President.
I have been a beneficiary of everything good that a human being can get from having the honour of living with the most inspirational man of the century.
Happy birthday my Love." How romantic is that?
On his part, Bobi Wine took to social media to reflect on being forty saying that his father had sired him when he was 40 and 40 years later, he was raising four children with a wife by his side.
He also observed that most of his role models including Jesus, Thomas Sankara, Tupac, Steve Biko, Dr Martin Luther King, and Bob Marley had not lived past 40 and he felt lucky to be able to see another year.
We wish the Ghetto President a happy and successful 40. As they say, life begins at 40 and well he is right at the starting line, we can't wait to celebrate his 50th and more birthdays.