Eddy Kenzo
is a renowned musician from Uganda who has worked his way up to becoming a prominent figure in the music realm.
He became the first person to ever win a BET Award in East Africa and he donated his BET Award to the Uganda Museum in Kampala.
Here is Eddy Kenzo's biography and how he became a global star.
Eddy Kenzo VS Bobi Wine

These two have never seen eye to eye, but it seems that might be a thing of the past.
Eddy Kenzo
came out to reveal that Bobi Wine was ignoring his phone calls and texts just because he felt like he is too big to talk to him. However, Eddy Kenzo might have had a change of heart and seems to want to patch thing up with his former friend, Bobi Wine.
It should be remembered that those allegations made by Kenzo on an
audio tape
that was circulated all over the internet put a dent in their relationship and it became almost non-existent.
Though they might be foes when it comes to their divergent political ideologies, Eddy Kenzo is ready and willing to sit down with him for a chat to solve their issues.
Eddy Kenzo Age
Eddy Kenzo was born on the 25th of December in 1989. He is 30-years-old.
Eddy Kenzo Early Life
Eddy Kenzo was born and raised in Masaka, Uganda. He was named Edrisah Kenzo Musuuza.

He was raised by his mother and she sadly died when he was 4. Eddy Kenzo did not know who his father was.

After his mother died, he spent the following 13 years living on the streets of Masaka and Kampala as an orphan.


Kenzo grew up with hopes of becoming a professional footballer and he joined Masaka Local Council FC's camp at age 9. It earned him a bursary to attend Lubiri Secondary School in Masaka, but he didn't complete his studies.
Also read - Eddy Kenzo Laments Over Estranged Family
Eddy Kenzo Career
Eddy Kenzo started making music in 2008 when he released his hit single, Yanimba.

Working with Mikie Wine In 2010, he released another single Tsamina.

He rose to fame after his song was used as a theme song by many politicians during the 2011 Ugandan general election.

Growing in the game, Eddy Kenzo established his record label, Big Talents Entertainment.


Eddy Kenzo continued his brilliance and he held his first concert at the Kyadondo Rugby Club, as a solo artist. Before hosting his concert, he released his hit single, Kamunguluze in 2014. Eddy Kenzo had his first major international breakthrough in 2014 when he released Sitya Loss.

Eddy Kenzo released a song, "Mbilo Mbilo", featuring Nigerian singer, Niniola. His song became a soundtrack of the Ugandan movie, Queen of Katwe.


In January 2015, Eddy Kenzo went on a tour in the United States with dancehall musician, DeMarc, and the tour assisted him to grow his name as a brand internationally.

During the same year, he performed at the Africa Cup of Nations in Equatorial Guinea alongside Akon.


He released his hit song featuring Kcee, Jambole, this allowed Eddy Kenzo to be recognised and he was honoured with the BET Award for "Viewer's Choice Best New International Artist". He became the first East African artist to win a BET Award.

In July 2015, he performed at the Kigali Up Music Festival in Rwanda's capital. He continued growing his brand and he started having massive numbers on his music downloads.
In July 2017, Kenzo went to Europe on a tour as a build-up of his third studio album,
Biology
. He featured artists such as Mani Martin, Werrason, and
Mi Casa
, among others.
Eddy Kenzo performed at One Africa Music Festival in Dubai.

In 2018, he released his fourth studio album, Roots. The album was accompanied by the hit song, Body Language.

Kenzo hosted a 10th anniversary concert celebrating his years in the music industry. The concert happened on the 4th of January 2019 in the Victoria ballroom of the Serena Hotel in Kampala.
Eddy Kenzo Awards

Eddy Kenzo is an award-winning musician who is celebrated in Uganda for his musical skills and giving back to society.


Here are the awards that he collected since his activity in music.
2'011 - Pearl of Africa Music Awards for Best New Artist
2014 - Africa Muzik Magazine Awards for Best Newcomer
2014 - Channel O Music Video Awards for Most Gifted (East Africa)
2015 - Black Canadian Awards for Best International Act, Afroca Music Awards, Best Revelation Award
2015 - BET Awards for Viewer's Choice Best New International Artist
2015 - HiPipo Music Awards for Best Use of Social Media
2016 - MTV Africa Music Awards for Best Live Act
2016 - All Africa Music Awards for Best African Collaboration
2017 - Zanzibar International Film Festival for Best East African Music Video Award, the Music video for "Jubilation"
2017 - TUMA Music Awards for Artist of the Year, Best Male Artist
2017 - All Africa Music Awards for Best East African Male Artist, Song of the Year "Shauri Yako"
2018 - Nickelodeon Kids' Choice Awards for Favorite African Star
2018 - International Reggae and World Music Awards for Best African Entertainer
2018 - Africa Muzik Magazine Awards for East African Artist of the Year
2020 - Golden Play button YouTube Award.
Also read - Eddy Kenzo Scoops Uganda's First Golden YouTube Award
Eddy Kenzo Endorsements
Eddy Kenzo was named the ambassador of the Kenyan Tourism Board and was appointed to occupy the same role in Uganda.
In 2015, it was confirmed through Seguku that singer Eddy Kenzo sealed an endorsement with Airtel Uganda. The deal was for Airtel's campaign "I had a dream" and they found Eddy Kenzo as a perfect fit for their brand.
According to reports
, Eddy Kenzo didn't talk about the figures of the deal but it was reported that he was paid an amount of 200 Million Shilling to put pen to paper for the endorsement.
Eddy Kenzo joined the likes of the African football giant, Yaya Toure who is the campaign's ambassador for Africa.
Eddy Kenzo Philantrophy
Eddy Kenzo launched a nonprofit organization called Eddy Kenzo Foundation.

In January 2016, he worked with the Ugandan footballers, Tony Mawejje and Vincent Kayizzi, to help provide food parcels to the nursing mothers and staff members at the local Masaka hospital.

He also hosts annual charity football matches in Masaka and Kampala that featured Victor Wanyama. The event raises funds for children in Uganda living with HIV.


Kenzo didn't stop loving football, in 2019 he started an academy, Big Talent Soccer Academy in Kampala. The Academy identifies local youth talent and provides education and focus on educating children about the game and securing their future with a solid educational background.


Eddy Kenzo Property & Cars
Eddy Kenzo owns a mansion in Seguku and he owns different kinds of luxurious. In his car collection, he owns a Range Rover Sport, Jeppe Wrangler, A Mercedes Benz sprinter, BMW X5, and a Bentley.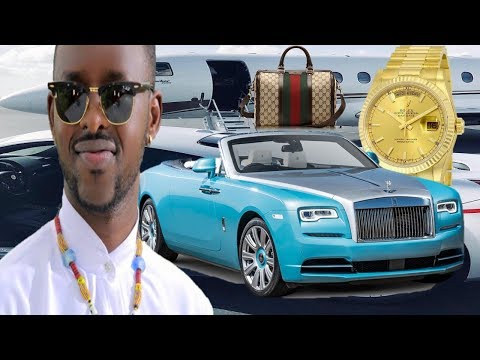 As a businessman, he owns a farm that is based in Masaka.
Eddy Kenzo Net Worth

He is estimated to be worth $1 million. This is through all the deals he sealed and through the sales of his music.


Eddy Kenzo continues working on his brand and being a prominent musician who hailing from Uganda. As an artist, he looks out for the interests of upcoming artists and always motivates the youth through his lifestyle and his music.
Read next:
Bobi Wine Is Still Pursuing The Presidency

Main image credit: Instagram