Spice Diana
is one of the fastest-rising
female musicians
in Uganda. She is known and loved by her multitude of fans for her talent, fashion style, and lavish lifestyle.
The Marry me hitmaker released her first song when she was only seventeen years old, and she has been on the rise ever since. She has won multiple awards, landed lucrative awards, and worked with some of the most respected names in East Africa.
As sis works hard and earns big, she also knows how to pat herself on the back for a good job done. Spice drives in big cars and lives in an equally big house. Here's everything you need to know about Spice Diana's multi-million mansion.
Where is Spice Diana's house located?
Spice Diana recently unveiled the new house that she had been building since 2019. The house is located in Makindaye, Kampala, along Salama road.
Her new location is a huge improvement compared to where this star lived when growing up. Together with her mother, Spice lived in a small house in Nakulabye Ghetto. Isn't it great to witness such growth?
Read also:
Good lighting or bleach?
How much did Spice Diana's mansion cost?
It is estimated that Spice Diana parted with a whopping 600 million to complete the construction of her house.
Spice Diana had to halt the construction due to COVID implications that saw many people lose their sources of revenue, including artists.
Because of the money constraints, Spice asked her fans for any form of help to help her finish building her house. While it is unclear if she got any help from well-wishers, sis eventually pulled through, and when the house was finally completed, she couldn't wait to share the good news with everyone.
Cool features
Spice Diana's house is a modern palace, and amongst other things, it boasts of the following features:
It appears that Spice Diana is fully invested in keeping fit and in perfect shape. In an exclusive tour of the house done by
Blizz
, we get to see some top-of-the-art gym equipment. Here is the full video of the tour.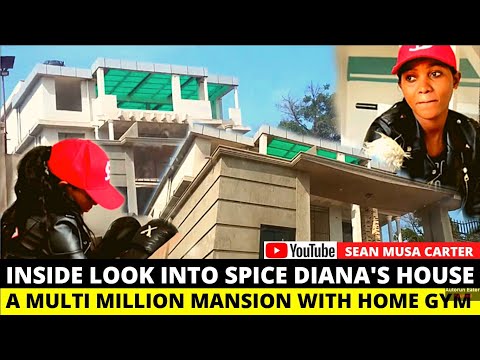 The interior of the house is fully furnished with luxury cream leather couches, elegant artistic pieces on the wall, and hanging chandeliers.
Does Spice Diana's house have a swimming pool?

It is unclear if Spice Diana's mansion has a swimming pool. However, it appears that Spice loves a good swim and she has on several occasions shared pictures of herself in a bikini at the pool.
Whether this beautiful swimming pool is hers or not has not been established yet, but when we do you, we will keep you updated.
Spice Diana's other houses

Aside from building her own mansion to completion, Spice Diana also built her grandmother a house in Kiboga district. She started the construction in 2019, around the time when she started her own construction.
She also revealed plans to build another house for her mother, although she hasn't let us in on the progress of her new project.